NOTICE: Feb 10,2007 I had to switch to another server-
the venturefds email is no longer valid.
Please use: christielkca@yahoo.ca.
All pages to be updated- slowly.
Thank you. Bonnie Moss


Welcome!
This site is meant to share thoughts
and ideas for the health of mind,body and spirit;
explore the realm beyond the conscious world;
reach out to the angels and the Higher Self;
read about the insights and wisdom Tarot
offers and more.

The Golden Cup

Especially for you,
a cup of inspiration,
a scoop of wisdom,
a dish of insights,
a dash of humor,
a pinch of reality.

B.MOSS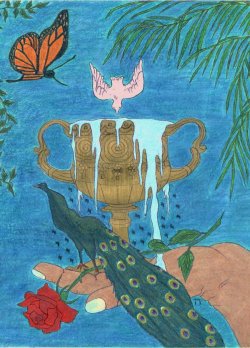 photo courtesy of the Lindmara Deck- by Linda Gravill
..any beauty the world has
..any desire will easily be yours
..as you live deeper in the heart
..the mirror gets clearer and clearer...RUMI
AMBER ALERT



A Dedication to the Heroes of September 11

I. What's New
2007
NEW !! Prisoner of Negativity
NEW !! The Darker Side of Friendship
NEW !! Abracadabra
NEW !! Synchronicity
Friendship:The Unspoken Blessings and Complications
In Memory of a Friend

II. TAROT SECTION:
Tarot Articles
NEW!! The World XXI
Illusions,Reality and Beyond
LOVERS VI The Intricacies of Relationships
Tarot Tower:A Catapult to Change


III. SPIRITUALITY SECTION:
Articles on Spirituality and Soul Searching and beyond
The Spiritual Side

IV. NUMBERS AND DREAMS SECTION:
Numbers and dreams have always fascinated man.
About Numbers and Dreams

V. WRITER'S SECTION:
Articles on Writing ,personal essays and more.
Writer's Corner
P A G E S
Take a peek at life experience of
family,friends and myself.

VI. LIFE AND LIVING SECTION:
Life and Living
Articles about life and living
Life is what we make it!!!

VII. GARDENING SECTION:
A Gardener's Corner
Something for the gardener

Update: March 17,2007


Links