a bonnie garden
\
A SPACE OF GRATITUDE

there is so much to be grateful for each day.
Garden Expressions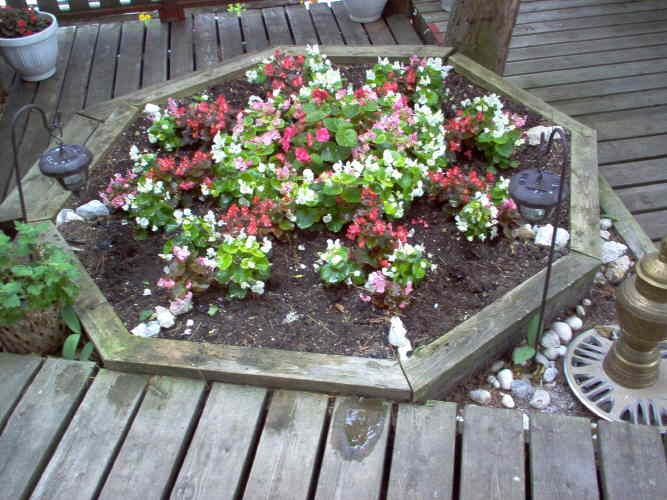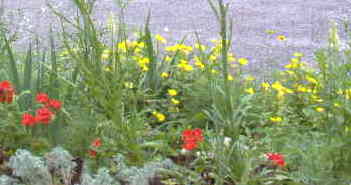 Gardening to me is a form of expression.
It allows me to indulge in the beauty of nature. I have friends who go crazy over exotic and expensive plants, then cry when these plants die.I am a practical gardener- I have forces of nature to deal with- soil,( I'm surrounded with pine trees and pine needles are very acidic), animals and the constraints of time.
I know the frustrations of a gardener- plants getting sick, not doing well, the soil is either too acid or too alkaline, colors don't blend, and other petty details.The garden looks overcrowded.Weeds are out of control.The soil is either too dry or too wet.
There is always work to do, rain or shine.My most frustrating battle is with the animals that share this earth with me. I accept their right to be here. I constantly read up on "How-To" deal, banish these four-legged critters. I keep bowls of water, call it watering stations. Last year, I came across a solution to deter most of the creepy crawly critters.
Hot Tea:( not an original recipe)
-crushed garlic, lots of it
-dried hot pepper ( the one you shake over spaghetti)
- warm water , half a gallon
Mix and let stand. Filter, then, put in a spray bottle and spray over plants. It gives off a very pungent smell, deters chipmunks and squirrels and when freshly sprayed, rabbits stay away. It worked for a while, until these critters figured hey,it's not harmful, just put up with the smell!
Next- deers abound in my area. I chose plants that deers can't be bothered with. Hostas are out. But, I do have some that attract them, like roses and coneflowers and lilies. Deers can't get enough of lilies. Deers don't like plants that look like ferns. I fenced part of the garden with a red reflective tape, compliments of my neighbor. Didn't do a thing!
I hang small reflecting mirrors from a tree.It seemed to work and I was pleased with myself.I look at the garden each morning ( morning ritual walk down the garden) eagerly awaiting to see the lilies in full bloom, lots of buds, the coneflower was just starting to open.
VOILA, last Wednesday,July 6th, coming back from town,I saw a deer having a feast in my garden. Boo- hoo!!! My lilies are gone, the coneflower completely eaten. The daisies are gone. My roses were just having their second set of buds- it's gone too.Even chomped on a small clump of black-eyed Susan. I was so angry, I thought I'd try something else. There are other lilies not yet in full bloom. I had to devise a plan of attack.
I read that surrounding the garden with fishing line works. I went to town and got some metal stakes, ugly looking thingies, but useful, I hope. I strung fishing line, 2 feet, then 4 ft, then 5 ft. I'm too short to get up to 6 ft. The idea is, the deer can't see these, at two feet, as it takes a step, the line will hinder the next step, etc.
I keep my fingers crossed.